Most people will say Location and Location only will define your business. The second opinion you will get is to take a franchise. Both are true statements; however, there are certain things that you need to do first. You need to learn the art itself. Yes, become a hairstylist, makeup artist, or cosmetologist. The point is to practice before you preach. Not only that you should also learn soft skills like communication. Yes, this will make or break your salon. In the business of a salon, you have to be very patient with customers. Building rapport with clients will fetch you repeat and new customers. If you don't want to be another salon on the block become certified. Do courses that will give you certificates for your beauty courses. This brings confidence in customers that they are in good hands. So how to open a salon, read on.
You can also read – Beauty Courses and the Career Ahead.
You can start with basic courses like self-makeup. If you can do it yourself you can do it for others. By doing basic courses you will also find your strengths and weaknesses. You could be good at makeup but you might not be as good at hairstyling. By doing the start-up courses you will not only learn the basics but will streamline your thought process. Once you have found your niche go for the professional courses. Now the basic course duration is between one to three months. The professional courses are for a year to one and a half years. Yes, this is the minimum time you have to invest to learn. The professional courses will also teach you about products and equipment.
To be successful in the salon business you need to be updated on the latest trends. So you think learning will teach you how to open a salon? Well, you just got started. You will also like to read – The Art of Self-Makeup.
Learn to walk before you can run!
Once you have done your beauty courses you need to practice. All beauty treatments have different parameters. One shoe fits all is not the norm in a salon. You need to identify various skin types and then suggest treatments accordingly. This is the time to put into practice what you have learned. If you are doing hair styling, the type of face will define the hairstyle. I think you get the picture. Another benefit of working first is that you learn the challenges in a salon. You will also learn by seeing how to manage these challenges. The challenges could be the customers themselves or the treatment cost. Yes, what price a treatment should cost and what quality products to use? Since your focus is starting your salon you need to learn all aspects of cost. You will also learn from your colleagues how they handle difficult customers.
Also, read – Hairstyling Courses and Career.
Do not be bothered about starting from ground zero. You will be doing minimal jobs as a fresher. Initial few months you will also be getting just a stipend. Do remember the more experience you have the more salary you get. Not only that you can also charge higher as a freelancer or as an owner. To give you an idea, a bridal makeup a fresher gets five thousand, you are just a helper. A mid-level beauty professional with 2-3 years experience can charge 15-25 thousand for the same. A professional makeup artist will charge you fifty thousand to a lakh. The experience factor will also set the tone of your salon. Meaning, you can charge customers as per your experience and the skills you have developed over time. Now you have the full knowledge of how to open a salon? Let put it into practice.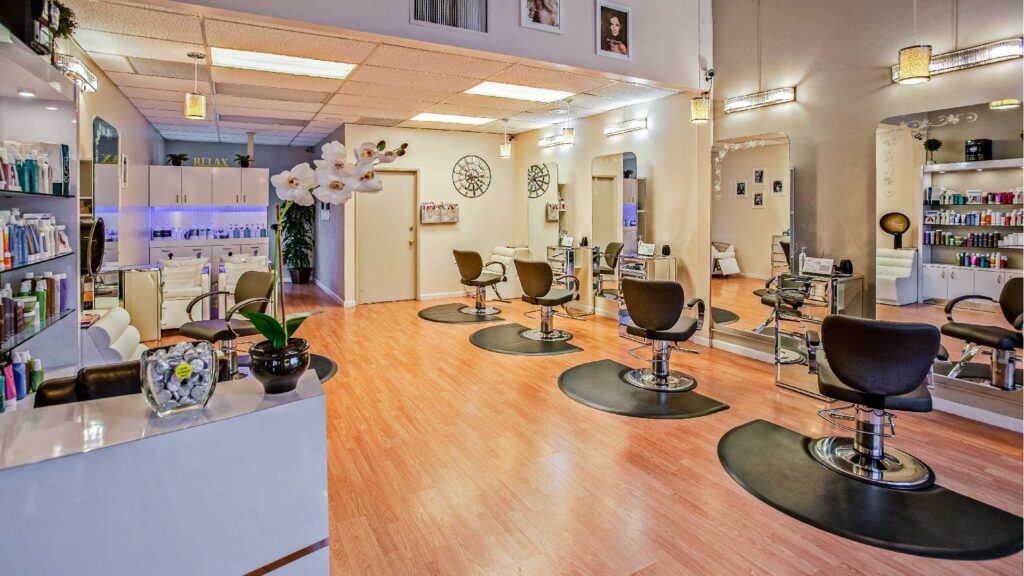 The number one thing to do is find a good location. A good location also helps in walking customers. It also helps in brand visibility. A good location can give you a good start too. Needless to say, ambiance plays a major role. Salon ambiance acts like the first impression. A good ambiance set high standards in the mind of the customers. In the salon business do not compromise on quality. Keep high standards from the word go. This will create loyal customers and a reputation in the beauty industry. Do pay extra and hire the best talent. This will also help in the long run and will help in maintaining quality. Always remember you cannot do all things. I will not go into the aspect of marketing. You either can do it yourself or better hire a professional. A professional will make a better website, chalk out a marketing strategy, and will help you in identifying your target audience.
We are always there to help you do get in touch with us. You can download the e-brochure for Professional Makeup Course here. We also provide customized courses as per you.    
Share